---
Shurei, Tsukasabotan
Set of two 720ml bottles.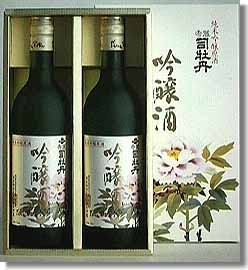 product
Pure rice, ginjo (top quality) and pure sake
amount
720ml
degree of Japanese sake
+5.0
proof
17.0-17.9
acid level
1.6
amino acid level
1.1
rice used
Yamada Nishiki (Hyogo Prefecture)
Kita Nishiki (Hyogo Prefecture) Akebono (Okayama Prefecture)
rice cleaning percentage
60%
yeast used
Kumamoto Kobo yeast
original kind
regular speed ferment
unrefined days
26 to 28 days
time of storage and ripening
More than 140 days in low temperature
lees percentage
45%
water used
spring water (super soft water)
style
ŽO'iˆêŒÂŽd•'
chief brewer at the sake brewery
Yoshiki Kashima (Hiroshima Prefecture)
Has rich aroma of Ginjo,
mildly sour, which makes the taste even deeper
and the after taste delightful.
price (approximate)
Information
Tsukasabotan Shuzo Co., Ltd. 1211 Sakawa-cho Ko, Takaoka-gun, Kochi-ken 780.
TEL: +889-22-1211

---
Sponsor: Nishijima Engei Danchi

Two musk melons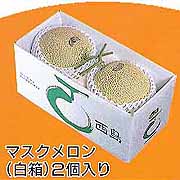 Nishijima Engei Danchi is famous for it's melons, water-melons, and flowers. Also, it symbolizes Kochi Prefecture, the kingdom of agriculture. Throughout the year, Nishijima Engei Danchi produces melons and watermelons in greenhouses. They are popular all over Japan as top quality melons. The melons are a result of their agricultural technique. They are also famous for their big agricultural garden where tourists come to visit. You can observe, eat, and learn there. It is one of the most popular tourist spots on Shikoku Island.


Come over and enjoy. Near from Kochi Airport, JR Gomen Station Kochi Expressway Nankoku Interchange.
Price (approximate)

| | |
| --- | --- |
| 2 melons in white box | ¥4,000 |
Information
Nishijima Engei Danchi 600 Nishijima, Nangoku-shi 783.
TEL:0888-63-3167
FAX:0888-63-1151

---
One night (and dinner for two) Hotel Coupon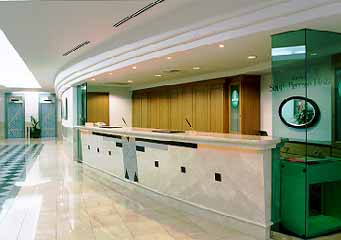 5 minute walk to Harimayabashi, the center of the town.

South Breeze Hotel is by the river with lots of greenery.
You will be welcomed by the warm breeze of the south,
accompanied by our hospitality and care.


Single rooms start at ¥5,800; Twin room from ¥9,800;
Japanese rooms start at ¥13,000 (with two meals)


Also enjoy our spectacular baths and saunas.

Price (service tax included) (approximate)
| | |
| --- | --- |
| Deluxe twin room for two people | ¥14,000 |
| breakfast and dinner (for two people) | ¥10,000 |
Information
South Breeze Hotel 5-29 Nonin-machi, Kochi-shi 780
TEL: 0888-85-5050
FAX: 0888-85-5051

---
[To the guest book]